popeye 240x320 java game free download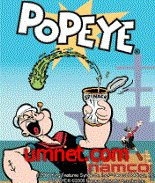 Name -
popeye
Category -
action
adventure
Resolution - 240x320
Type - jar
Size - 213 KB
Rating -

3

/

5

from

15

ratings

Rate this app:
586 downloads
Description:
The game lets players be Popeye on his perennial quest to win back his sweetie while overcoming the antics of his rival Bluto. Collect the hearts, musical notes and cries of "H-E-L-P" that a captured Olive tosses down, while avoiding the Sea Hag's bouncing skulls, Bluto's punches and other dangers. True to the series, Popeye is "strong to the finich" if he gets his spinach, temporarily gaining the strength to go after Bluto and knock him off the screen.

Unlike other versions of the game, the mobile edition will include bonus features, like networked components and an enhanced mode with additional game play, and cameos by other characters from the Popeye series.

Olive Oyl has been kidnapped...again! Help Popeye win her back by collecting Olive's love tokens in this mobile-optimized update to the popular arcade classic. Beware of Bluto's formidable punch, the Sea Hag's bottles and Bernard the Buzzard's airborne attacks! 'Musckle' up with spinach to knock Bluto out! Redeem earned points to view Popeye comics. Play Popeye by Namco in arcade or enhanced mode.

* Keep an eye on Bluto because you can figure out his next move by looking at his pose or expression. For example, if Popeye is above Bluto, Bluto will glance up before he reaches up to clobber Popeye. * There is only one can of spinach on each level so use it wisely! * When Popeye uses a can of spinach all of Olive's tokens will freeze on the screen. This will allow Popeye to gather tokens relatively easily and for double the points!

Features:

? The original arcade game is faithfully reproduced on mobile for fans of the arcade classic; enhanced mode features fresh new graphics, two brand new rounds ("A Dream Walking" and "Spinach Run" bonus round) and cameos by Eugene the Jeep and Bernice the Whiffle Hen.
? Simple, intuitive control scheme that's perfect for mobile with 'episodic' rounds, centered around familiar themes.
? Conducive to play in convenient 'bite-size servings.'
? Earn points you can redeem for Popeye comics that you can download and view right on your mobile phone!