TUTO-s60v5 PLAY WITH WII CONTROLLER emulators
TUTO-s60v5 PLAY WITH WII CONTROLLER emulators symbian game free download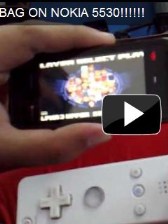 Name -
TUTO-s60v5 PLAY WITH WII CONTROLLER emulators
Category -
misc.
Resolution - multi
Type -
Symbian s60v5
Size - 659 KB
Rating -

2

/

5

from

26

ratings

Rate this app:
2188 downloads
Description:
Hello, I open this post because I looked and I think that nobody talks about (or so it has escaped me )
DIFFICULTY 3 / 10
-First offers that is what happens:

-The top is with the emulators, I put PicoDrive (Sega Genesis) and vbagx (Game Boy Advance), which for me are the best, there are other like antnes and vsun for Super NES (not really conclusive, bug or too tiny screen ....) or windows95 emulator for playing old games pc, in short I will not dwell on that.
PROGRAMS TO INSTALL: http://www.megaupload.com/?d=GDZZH7M9
-Preferably with such a hacked, install emulators on E
-PicoDrive to create a folder on your megadrive such mass memory or memory card of your choice, to put your roms * (format. bin or. smd)
-VBAG for Rom * has to be in E / data / other / VBAG (format. gba)
* WARNING YOU MUST BE IN POSSESSION OF THE ORIGINAL, IF IT IS AND PIRACY PIRACY IS NOT WELL

Right-turn at the best:
install virtual keyboard (it is in Russian but it's not embarrassing)
installer mobipad . MOBIpad install.
and Go!
1 enable the bluetooth
2 virtual keyboard and start reducing in the background
3 MOBIpad launch (this program is only for s60v3, touchscreen not compatible, that is why we need the virtual keyboard only to connect the wiimote), VIRTUAL KEYBOARD LEFT CLICK and click "discover wiimote "
4 Press the red button for pairing the wiimote (inside next to the batteries)
5 MOBIpad tells you he found the wiimote, press home (blue house on the wiimote) and automatically reduces the programe.
6 close virtual key, which is nothing more we serve.
7 launch an emulator, configure the keys in each emulator (up, down, left, right, A, B. ..)

HAVE FUN!

ps: for backups of your games, you must do by hand through the emulator (option-save), because even if the games mark saved game, it is not!
PS2: this is not worth asking me for Rom, even in MP, I do not give. A simple search on google is you find your happiness.
PS3: If someone could test it with the Sixaxis controller bluetooth sony ps3, thank you for the info up!
PS4: a little thank you, it is always nice ...
Also try