Rollercoaster Rush 2D 176x208 java game free download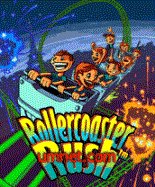 Name -
Rollercoaster Rush 2D
Category -
leisure
Resolution - 176x208
Type - jar
Size - 184 KB
Rating -

2

/

5

from

29

ratings

Rate this app:
735 downloads
Description:
Sony Ericsson W800



But anyway, rollercoasters are enough to bring out the screaming child in any full-grown adult. Yet coaster-themed games have tended to sit in the tycoon genre, focusing on the strategic nuts and bolts of planning, building and operating a rollercoaster ride, rather than the thrills'n'spills of actually driving one.

Well Rollercoaster Rush has rolled into town to put that right. As a globe-trotting coaster brake-man, you're charged with giving your customers as exciting a ride as possible without sending them plummeting to their doom (which looks bad on your CV).

The game has cute 2D graphics, and is set across coaster tracks in three countries: Australia, France and the United States. The controls are ultra-simple ?the '6' key speeds up, and the '4' key slows down.

This simple mechanism belies finely-weighted gameplay. Giving your passengers an exciting ride means speeding up at the right moments to bounce over jumps and humps, while not going so fast as to leave the track altogether.

There are loop-the-loops to negotiate, too. To help, little floating road signs appear as you go along telling you what's coming up next, although you shouldn't get too complacent: at full pelt, they still won't stop you depositing your passengers over the side if you're not careful.

As you go, your little passengers chuck out smiley face icons when they get excited, giving you extra points when you reach the end of the track. In Career mode, you start each country with two passengers, but if you thrill them enough, you get extra punters as you go along ?up to a maximum of eight.

Career mode also gives you a points target for each country, which you have to beat over five tracks to progress to the next country ?for example, it's 7,000 points for Australia.

Besides racking up points for happy passengers, you can also win awards on each track for a set of achievements, which gives you bonus points. The 'No Brakes' award is for, yes, not using your brakes at all, the 'Ridiculous Speed' gong comes if you reach the maximum speed, and our favourite ?the 'Mr. Snail' award ?is for completing the track super-slowly. There are several more to discover, each as loopy as last.

Rollercoaster Rush is a superbly-crafted mobile game that's clearly from the same creative line as Digital Chocolate's Tower Bloxx game ?fans will note the way your passengers whip out parachutes if you crash for proof.

It's doubtful whether the game has quite as much long-term depth as Tower Bloxx in the Career mode. Simply trying to outdo your record Career points total while snagging the more esoteric awards in Rollercoaster Rush isn't as addictive as refining your Tower Bloxx city. Another criticism is that the game is a tad over-reliant on learning the different course layouts, which can get a bit repetitive.

However, it makes up for these quibbles with a nifty multiplayer mode, where you and up to three friends pick a track and play it one-by-one to see who has the best score, while screaming like you're on a real coaster. (That last bit's optional, obviously ?our local landlord wasn't too keen.)

Rollercoaster Rush is marvellous, even if it doesn't last as long as Tower Bloxx did. All the fun of the fairground, with none of the vomit. Although we're still hoping that might be a secret mode...
Also try