NOM 2 FREE RUNNER v1.0.32
NOM 2 FREE RUNNER v1.0.32 176x208 java game free download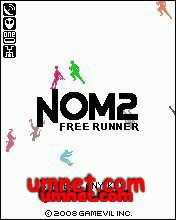 Name -
NOM 2 FREE RUNNER v1.0.32
Category -
puzzle
mind
Resolution - 176x208
Type - jar
Size - 250 KB
Rating -

3

/

5

from

7

ratings

Rate this app:
347 downloads
Description:
At first, I was puzzled why they would develop a sequel to "NOM", and I also hoped that it won't be like "Super Sketcher", the follow-up to "Sketcher". But once I began playing it, my concerns were dispelled. "NOM 2" is vastly improved, and even revolutionary.

During the game, you must run, jump and fight. In order to reach your destination, you have to avoid the obstacles and gain energy candies, which helps you recover. The boss stages are better designed than the original. In "NOM", there's only one boss in the last stage. While in "NOM 2", you will encounter bosses every 4 stages, and you must hit them in different ways. For example, in the first boss stage, there's a bar and a red point. When you hit the red point correctly, you have a chance to beat the boss. The fighting movements in this boss stage are more like "Kung Fu".

In the HELP section, you will see that throughout the game, you use the "OK", "1", "3", and "5" keys to perform actions. Now, as far as I knew, this game is supposed to be a ONE-Button game. So why do I need the 1 or 3 keys? Is there any new elements in the game? I was very curious about this. Then in the latter levels, I found the answer. The man separates into 2 parts, one in black and one in white. You must control them with the 1 and 3 keys, which is kind of difficult, because when you rotate the screen, the key pads are not rotated, and you must change your mind very quickly, which means at that time, 1 is not "1", and 3 is not "3". It's high time that you stimulate your left brain.

And if you miss, the boss will attack you mercilessly.
Also try