Monster Paradise android game free download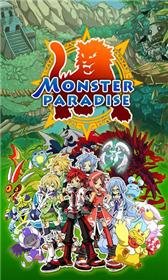 Name -
Monster Paradise
Category -
action
adventure
Resolution - multi
Type -
android
Size - 3070 KB
Rating -

3

/

5

from

24

ratings

Rate this app:
2092 downloads
Description:
"REQUIRES ANDROID:
2.2 and up"
"Become the strongest monster trainer by collecting and fusing over 500 unique monsters! Encounter fearsome monsters, journey through distant lands, and battle friends in Monster Paradise!
★ ★ ★ MONSTER PARADISE ★ ★ ★
Humans and Monsters used to live peacefully… until the rise of the Dark Monsters! The only way to save the world is to become the strongest monster trainer and defeat the Dark Monsters with friends!
★ ★ ★ FEATURES ★ ★ ★
? Battle, collect, & fuse from 500+ original monsters to fight by your side!
? Journey through over 60 in-game areas and 180+ quests.
? Team up with friends to defeat the Dark Monsters for nice rewards.
? PvP against other monster trainers to become the strongest!
? Collect tablets to unlock special & legendary monsters.
? Watch for special Dark Monster events appearing at certain times of the day!
? Experience a memorable cast of characters and storyline.
★ ★ ★ DOWNLOAD & PLAY NOW FOR FREE! ★ ★ ★
Device Support: Monster Paradise has been tested to support the following devices.
HTC
- Evo 3D, Evo 4G LTE, Evo Design, Desire C, HD, S, VC, X, Droid Incredible 2, Incredible S, One S, V, X, XL, Rezound, Vigor, ThunderBolt 2, Droid Incredible HD, ADR6425, Thunderbolt, Fireball, Bliss, Amaze 4G, Sensation, Velocity 4G, Pyramid, myTouch 4G, Rider, ISW12HT, ISW13HT
Samsung
- Exhibit 4G, GT-I8150B, GT-I9018, GT-I9100G, GT-I9100M, GT-I9100P, GT-I9210, GT-S7500, Attain 4G, Beam, Galaxy Exhibit, Galaxy Exhilarate, Galaxy Nexus, Galaxy Note, Galaxy Note LTE, Galaxy Player, Galaxy R-Style, Galaxy Reverb, Galaxy S, S Duos, S Lightray, S Plus, S2, S2 HD LTE, S2 Skyrocket, S3, S3 LTE, S Blaze 4G, Galaxy W, Infuse 4G, Nexus S, Repp, SAMSUNG-SGH-I777, SAMSUNG-SGH-I896, SAMSUNG-SGH-I997R, SC-03D, SCH-I110, SCH-I405, SCH-I699, SCH-i919, SCH-i929, SGH-I727R, SGH-T679M, SHV-E110S, SHV-E120K, SHV-E120L, SHV-E120S, SPH-L300
Motorola
- Atrix, Droid Razr, Droid X, X2, XT303, XT316, XT320, XT389, XT390, XT535, XT550, XT556, XT605, XT615, XT626, XT687, XT885, XT925, Droid Bionic, MB865, MB886, ME863, Milestone, Triumph, MOTWX435KT, Sunfire
LG
- Optimus X, LTE, it, L3, L3 Dual, L5, Sol, M+, Elite, L7, LTE Tag, Black, EX, 2X, 2X 4G, Marquee, Majestic, Mach, Big, Net, Net Dual, 3D, 3D Max, 4X HD, Schwarz, Star, Speed, Victor, MS840, Bryce, MS770, Tegra, VS910, F160k, s, l, Ignite, myTouch, Thrill 4G, Prada, Spectrum, Spectrum 4G, Splendor
SonyEriccson
- Xperia Acro HD, Arc, Arc S, P, Xperia Ion, Neo, Sola, Mini, Ray, Active, Nozomi, Urushi, Go, U, Tipo, WT19a
Sharp
- Aquos, Q-pot, DM010SH, DM012SH, GALAPAGOS, INFOBAR A01, IS03, IS05, PANTONE 5, SH-06D NERV, SH80F, SH8288U,SH8298U, Yahoo! Phone
Google Nexus S
Support for more devices will be coming very soon!
If you encounter any bugs on your Android device, please send us email to
[email protected]
with your model info!
All Rights Reserved
Monster Paradise, 2012, Aeria 51, LLC
Monster Paradise, 2012, Pokelabo, Inc.
Trademark Notices:
Monster Paradise are trademarks (""(R)"") for the United States) of Aeria 51, LLC and Pokelabo, Inc. in the United States and elsewhere."
Also try