Luckiest Wheel Free android game free download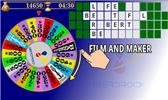 Name -
Luckiest Wheel Free
Category -
leisure
Resolution - multi
Type -
android
Size - 10572 KB
Rating -

3

/

5

from

13

ratings

Rate this app:
1102 downloads
Description:
Android 2.0 and up




Solve as many panels as you can before the time's up!
- MORE THAN 1500 PANELS currently.
- Online panel updating.
- New panels added on a daily basis.
Solve as many panels as you can before the time's up!
Win virtual dollars, or duplicate the available time, but be careful! you can also fall into bankrupt losing all your money, or get your time cut by half.
Challenge your friends on multiplayer mode and show who is the clever one.
Lauch the wheel sliding your finger over the yellow arrow. The more nexted panels you solve, the more money you will get to beat your own scores.
DISCLAIMER: "The Luckiest Wheel" is NOT an official game from "The Wheel of Fortune" and it has no endorsement and no relationship with no TV show or TV channel.
There is no help screens yet, although I think it is rather intuitive, here are a couple of tips:
- You cannot solve the panel before discovering a given percent of the letters that varies with difficulty level. At that time the SOL key will be enabled and you may use it to SOLve the panel.
- To use vocals you must buy them and the price is $200 ($2000 from 1.7.1+) for each. So if you have less than such amount they will be disabled until you reach such quantity.
- It uses no punctuation chars like ',', or '.', etc. so the genitive is formed without ' char, i.e. "Joe's car" will be shown as "Joes car" instead.
NEW ONLINE PANEL EDITOR
Now you can suggest new panels through the new panel editor that we have published here:
http://iberdroid.net/panel-editor
Now in the game itself, below each panel subject on the "New Panel" script, the name of the author will be shown also.
ANSWER TO SOME USERS:
* w August, 22
"Hard to answer when half the puzzle answers are misspelled."
That's NOT true, indeed.
"Gallery with one L...really?"
Well, ONE typo on HUNDREDS of panels is actually FAR for being "half the puzzle answers". Anyway it has been yet fixed in the server side, so it will be fixed also on clients as soon as they take the new panels from server (less than 48 hours in most cases).
* ashley lane July, 22
"I don't like it because its in Spanish"
It supports both, Spanish and English, and soon will be also in Italian.m Please, take a look at the Settings to change panel's language. Its usually set up to your phone's default value, but may be you have changed it by mistake.
* Matthew July 11, 2012
"Some of the prompts/subjects & answers are misspelled & mistranslated"
Tell us which and we will fix them ASAP. Thanks a lot.
* Stephanie on Sunday, July 1, 2012 at 01:56
The application does NOT gather any personal information. Requested permission is for gathering application log info that may be valuable for debugging the app on crashes with the goal of make it more stable. Please, note that Google Play says about that permission that it MAY be used eventually to gather personal info, but that does not mean that it will be used for that in fact. And, in fact, it is NOT used for that.
Anyway as you are the second user complaining about this permission request, I will remove it on next 1.6.6 release within next 24 hours. It will be harder for us to solve crashes, but I prefer that than making users be afraid about their privacy.
Also try