HD Ocean Bubble Shooter android game free download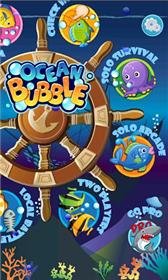 Name -
HD Ocean Bubble Shooter
Category -
leisure
Resolution - multi
Type -
android
Size - 2326 KB
Rating -

3

/

5

from

17

ratings

Rate this app:
856 downloads
Description:
android 2.1 and up




"Great game! Lots of levels. Graphics great and sounds are arcade like. - Johnny
Didn't expect this to be so much fun. The other similar games will be removed from my phone and reclaim the space. Hi 5 to the developer. - VALARY

The coolest Bubble Shooter game has been launched for Android! Ocean Bubble (HD) Supports battles over WiFi or Bluetooth, allows a two player game on one device and Offers VS against AI's of various Levels. Also included:
Solo Arcade consisting of 600+ Levels!
Solo Survival mode, Free Level Online Store (400+ additional levels now) and Level Editor…
Similar ""Bubble Shooter"" games will pale in comparison and Ocean Bubble (HD) will fast become your favorite and final choice!
A definite ""must have"" for Tablet users!!
What makes it different from other "Bubble Shooter" games?
1. Local Battle
VERY exciting game action! Play with family and/or friends on one device (Tablet or Pad type device is best) or with two devices synced together with WiFi or Bluetooth connection.
2. The Bigger The Better!
HD – No matter how large your device screen, because of the use of Vectors to render the game UI, the screen(s) are always crystal clear and sharp.
3. Simple and Precise Operation
Tap (touch) the screen directly to determine the direction the Bubble will travel.
4. Powerful Robots (AI)
When you think you are good enough ;o) and there are no other players around, you can play against the System AI. Some of them are very tough – give it a try!
5. Pet Robots
Train your very own Pet Robot to represent you to challenge (and beat ;) Local Game opponents.
6. Enhanced (two mode) Solo Game – Arcade and Survival
After unlocking, choose your choice of Level from the Level Previews. With score Rating and Ranking – can you become the Head Boss??
7. Online Store and Level Editor
With these two innovative and unique features, you will ALWAYS be challenged with new Levels to play!!
8. Combo Counter
When playing Solo Arcade or Solo Survival, you will receive extra points toward your score when you Combo Eliminate bubbles. DO NOT underestimate this feature!!
So – What are you waiting for?? Download and experience the excitement of Ocean Bubble (HD)!!!
Ocean Bubble(HD) can also be moved onto Memory (SIM/SD) card.
In the Free Version – the Ads will disappear when game play begins.
To avoid ALL ADS - There is a Pro Version available!
Some of the main features of the Pro Version include:
NO ADS, More System Robots, Pet Robot with NO LEVEL LIMITATIONS, Continuous Cumulative Versus Score, download store level without limitation ,etc.
Please go to: market://search?q=com.peachstudio.bubble.ocean.paid.key Or https://play.google.com/store/apps/details?id=com.peachstudio.bubble.ocean.paid.key
Very happy to receive feedback from players around the world in regards to what can help us to improve Ocean Bubble(HD).
Battle Mode introduction:
All bubbles that drop from one side - will be received on the other side.
When more than three bubbles are burst on one side, additional bubbles will be received on the other side.
When one side bursts a Combo of three or more bubbles, the other side will receive additional bubbles also.
Thanks Rob Langer for the English translation.
Thanks HaeLan Park for the French translation.
Thanks thierry audy for the Korea translation.
~ The Best of the Best ~ This is the one ""Bubble Breaker"" game that no device should be without! From the innovative Selection Screen, to the challenging game play inside - this is the one game that will keep you interested time and time again! HIGHLY recommended!! - Rob

Follow us on Twitter: http://twitter.com/#!/peach_studio"
Also try