DChoc Cafe Domino Nokia 3250
DChoc Cafe Domino Nokia 3250 176x208 java game free download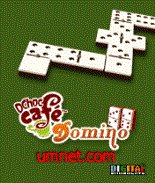 Name -
DChoc Cafe Domino Nokia 3250
Category -
card
board
Resolution - 176x208
Type - jar
Size - 346 KB
Rating -

2

/

5

from

28

ratings

Rate this app:
523 downloads
Description:
Digital Chocolate's latest addition to its DChoc Cafe series of colourfully presented traditional games is dominoes. No, not those of the painstakingly-set-up-only-to-be-knocked-down variety, but the other ones. The traditional game, played in sleepy pubs and on rainy family camping holidays since the year dot (pun intended).
For those unfamiliar with the Cafe premise, it's an isometrically viewed cafe hub from which you can access a version of a classic game, view other players' high scores and compare personalised avatars ?C the latter two of which make use of your phone's online capabilities. Little has changed with this latest iteration, possessing as it does the same polished presentation and likeably breezy approach to the main game.

As for that main game, well, it's pure unadulterated dominoes. You take it in turns with up to three opponents, lining up numbered tiles with those already on the game board. Other than a few minor variations on the rules (mainly dictating whether you 'Draw' additional tiles when you can't go or just pass) that's it.

The central challenge lies with Career mode, where you play against an assortment of computer controlled opponents of varying skill levels across each of the game types. The aim is to accrue points and climb the rankings ladder, unlocking a variety of goodies along the way.

These goodies take the form of new accessories for your avatar (such as a snazzy pair of Chinos) as well as a number of hot drink recipes. Yes, we said hot drink recipes. No, we have no idea why you'd want to know what goes into a Corretto (it's a coffee with a shot of liquor, usually grappa or brandy) in between bouts of dominoes, but there you are. One for the budding Starbucks employee, perhaps.

There have been no great leaps in the online department, with multiplayer stuck resolutely in single phone-sharing territory. Any online competition comes via the aforementioned high-score comparison feature, and while it's a nice inclusion, we're not sure how well suited the game of dominoes is to a high-score mentality. With a healthy dose of luck involved in each and every game, coupled with such limited strategic possibilities, it's hardly a test of skill that lends itself to such a competitive structure.

Following on from this, we found ourselves making our way through the Career mode without much of a hindrance ?C it did seem like the draw of the tiles was often stacked heavily in our favour. Suffice it to say that even those new to the mobile gaming and indeed dominoes itself will have no trouble making headway in this game, which is obviously what Digital Chocolate is aiming for. This is gaming at its most casual (we'll resist the obvious decaf gag), which is no bad thing when it's handled this competently.

Cafe Dominoes, then, is another polished, accessible entrant to the DChoc Cafe series. Whilst some might find it overly simplistic and lacking in challenge, it is undeniably good fun to play with plenty of neat (if inconsequential) unlockables to toy with. We can imagine it being the perfect way to pass five minutes while you wait for your Nico ('espresso with orange syrup and cinnamon') to brew.
Also try