ChessGenius v3.6 for S60v3v5
ChessGenius v3.6 for S60v3v5 symbian game free download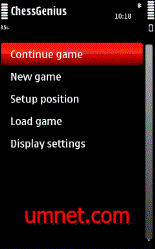 Name -
ChessGenius v3.6 for S60v3v5
Category -
card
board
Resolution - multi
Type -
Symbian s60v5
Size - 142 KB
Rating -

2

/

5

from

28

ratings

Rate this app:
884 downloads
Description:
Lang Software ChessGenius v3.6 S60v3/v5 SymbianOS9.x Unsigned Cracked-zAWS!

Features of ChessGenius for S60 3rd and 5th edition phones
* Free updates
* Supports touch on all S60 5th edition phones
* Supports all S60 3rd edition phones
The display adjusts so that ChessGenius runs full screen on all phones. All screen resolutions are supported including 176x208, 208x176, 208x208, 240x320, 320x240, 352x416, 416x312, 800x352
* Small and compact
ChessGenius.sis is only 159 KB in size and requires only 250 KB on your phone
* Incredibly strong play
Excellent play even on the 'instant' level. Playing strength is around 2450 Elo
* Thirty playing levels
Ten easy levels. ChessGenius makes deliberate mistakes
Ten time based levels. Instant, 1 sec, 2 sec, 3 sec, 5 sec, ... 3 mins
Ten Blitz levels. Whole game in 1 min, 2 min, 3 min, 5 min, .... 120 min. The Chess Clocks count down in these levels. You lose if you run out of time
* Game information
The last moves of the game
Chess Clocks. Total White and Black time and move time
Main line. For example, the line may show:
"1.03 05 cxd4 Nxd4 Nc6 Bb5" This means that:
ChessGenius is winning by 1.03 pawns. Search depth = 5, and line of moves. ChessGenius is planning cxd4 and expects Nxd4 in reply etc
* Set-up position
Any legal position can be entered
* Take back and Step forward
Take back moves to start of game and Step forward to end of game. Easy take back and step forward with shortcut keys
* Hint
Let ChessGenius suggest your move
* Players
Play against ChessGenius, against another player or watch ChessGenius play itself
* Analyze game
Like 2 player mode but ChessGenius calculates continuously and shows its thinking. Useful for replaying games to see where mistakes have been made or for playing over an imported PGN Master game
* Rules of Chess
Understands all the rules of Chess including, en-passant, under promotion, castling, draw by repetition and the 50 move rule. Announces a draw if there is insufficient material to win
* Save and Load games
Games can be saved and loaded in PGN format. Games are saved to the "notes" application and can be edited and transferred
* Tutor option
ChessGenius will warn if a blunder / weak move is played and give the option of take back
* Chessboard options
Choose between 5 different piece sets and two chessboard sizes
* Board colours
Choice of 6 board colours and 3 styles
* Show legal moves option
After selecting a piece ChessGenius shows where the piece can move to
* Show last move option
ChessGenius can indicate the previous move
* Smart move entry option
This can reduce the number of key presses to enter moves
* Backlight
Option to keep backlight on for longer
* Opening Name displayed.
For example. Book B12 Caro-Kann defence
* Next best move option.
After ChessGenius has played a move "Next best" will force ChessGenius to take back its last move and compute the next best move. This is useful for forcing ChessGenius to play a particular opening and for analyzing positions
* Championship
A 'Championship' icon is displayed if you have not used Hint, Taken back moves or viewed the Main line. Can you beat ChessGenius without help?
* Supports English, German and French Languages
Language is selected during installation
* Symbian Signed
ChessGenius has passed the Symbian tests and the file is signed

New features of ChessGenius version 3.6
* New graphics
Now 5 different piece sets, each in two sizes
Board squares can now be plain, stony or shaded
Text background can be light or dark
"Display settings" mode so that the graphics options can be easily selected
* 3 extra easy levels
Some user complained that the easiest level was too strong. Easy levels 1,2 and 3 are now easier
* Bug fixes:
Next best now works with easy levels
Toolbar (visible on touch devices in landscape) bugs corrected.
Permanent brain bug that caused a crash on some s60 5th devices fixed.

INSTALL:
*Register with any key except default Key!
*enjoy!
Also try