iBattery screensaver for FlashLite enabled phones + Bonus Application
iBattery screensaver for FlashLite enabled phones + Bonus Application java app free download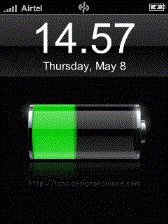 Name -
iBattery screensaver for FlashLite enabled phones + Bonus Application
Category -
system
tools
Resolution - multi
Type - jar
Size - 366 KB
Rating -

2

/

5

from

682

ratings

Rate this app:
13672 downloads
Description:
java


iBattery is a crisp battery UI that can be used as Wallpapers and Screensavers on your FlashLite enabled phones. This is a replica of the battery indicator UI in Apple iPhone.
click Link 1>>> Wallpaper: Without TIME and STATUS indicators.
OR
click Link 2>>> Screensaver: With TIME and STATUS indicators.
Please note:

Flash Lite 1.1 or above REQUIRED
Below are the generic steps for setting FlashLite content (.swf) as a Screensaver on a Symbian OS (N95 in this case).
We have used N95 to show the steps. Please note that these steps might be slightly different based on your model (Nokia).
1)you need to copy the swf file to the "Others" folder either on your "Phone Memory" or "Memory Card"
after you've done this follow this guide:
2 go to the "Tools" menu to set the file as screensaver. Navigate to "Settings".
3 Choose "General" > "Personalization" > "Themes" subsequently

4 Navigate to the "Power Saver" on the "Themes" screen to set the screensaver
5 Now click on "Animation" > Choose the "Animation file". This will take you to the "Others" folder of both Phone and Memory Card. Choose the file and press "Select" to set it as the screensaver
6 It is recommended to set the "Animation time-out" option to maximum (60 secs in this case).
7 enjoy
PLEASE NOTE: THIS APPARENTLY ONLY WORKS WITH PHONES THAT ALLOW SWF FILES TO BE USED AS SCREENSAVERS EXAMPLE, IT DOESNT WORK ON MY NOKIA N80
V4.0623.0.42
IF ANYONES HAS A PROBLEM WITH INSTALLATION, I WILL SEND YOU LINK PRIVATELY FOR A TOPIC THAT HAS BEEN RAISED WITH INSTALLATION REGARDING THIS SOFTWARE: FOR ME TO ABLE TO DO THIS PLEASE PM ME WITH YOUR EMAIL ADDRESS THANK YOU
FOR THOSE OF YOU WHO ARE HAVING PROBLEMS WITH THE SOFTWARE NOT WORKING "FULL SCREEN" ON YOUR PHONE, PLEASE REFER TO PERMALINK NUMBER 12/ OR POST NUMBER 12 , WHERE I HAVE UPLOADED 2FILES WHICH ARE BIGGER IN SCREEN SIZE FOR THIS SOFTWARE ( SCREEN SIZE: 320X240), HOPE THIS HELPS THOSE OF YOU WHO ARE HAVING PROBLEMS

BONUS APPLICATION:
KISS60:
KISS60 is a free mobile application that allows you to use, manage and enjoy Flash Lite screensavers on S60 phones.
Compatibility:
Nokia 3250, 5320 XPress Music, 5500 sport, 5700, 6110 Navigator, 6120 Classic, 6121 Classic, 6210 Navigator, 6220, 6290, E50, E51, E60, E61, E61i, E62, E65, E66, E70, E71, E90, N71, N73, N73 ME, N75, N76, N77, N78, N80, N80 IE, N81, N81 8GB, N82, N91, N91 ME, N92, N93, N93i, N95, N95 8GB, N95-3 NA, N96
Install Kiss60 then Go to the installation folder on your mobile phone and copy the screensaver you have to the folder and rename it to the screen saver in Rick's World. Start Kiss60 and choose Rick's World. good luck.
Also try