Im Here java app free download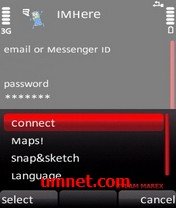 Name -
Im Here
Category -
entertainment
Resolution - multi
Type - jar
Size - 136 KB
Rating -

2

/

5

from

31

ratings

Rate this app:
573 downloads
Description:
Ver v9.0.4, for J2ME




MSN instant messaging
Yahoo instant messaging
Add/remove contacts
Invite contacts
Emoticons
www.www.www.google.com.com.com Maps: See where you are, if (Bluetooth) GPS available, and send your location to your buddies (They will receive a link with a www.www.www.google.com.com.com Map), see where your buddies are, find addresses, find businesses. This is a unique feature, eBuddy and mig33 do not have this.
Snap and send photos during a chat. The other users in the chat room will receive a link where they can watch the photo. Sending photos via IMHere is much cheaper than MMS and IMHere can reach both mobiles as PCs.
Personalize your photos using Snap&Sketch
Receive photos from other IMHere mobiles
Send Emails
Favourite messages
Supports most characters (us, chinese, arab, greek, etc).

When you chat or email you only pay the internet traffic (WAP, GPRS or UMTS). No extra fees or whatsoever. Sending messages and photos is much cheaper than SMS and MMS and you can reach all your MSN and Yahoo buddies on PC and mobile. When logged in you get the same contact list as on your PC. Requires internet, for example via WAP, GPRS, UMTS, etc.

IMHere supports menus in the following languages:
English
Chinese
Italian
Dutch
Portuguese
Slovenian

IMHere is a Java application that requires internet access, comparable to for example Opera Mini. If IMHere produces an error during login, it usually is because of wrong internet settings on your phone or provider issues. Before you write a bad review have a look at faqs, http://www.operamini.com/help/connect/, or try the Lite version (see below).

Snap & Sketch

With the new Snap&Sketch feature mobile MSN/Yahoo is more fun than before. Make a personalized photo in 3 steps:

Step 1: Snap
Snap a nice photo with your mobile. For example a nice photo on holiday, a photo of yourself or your pet.

Note that some mobiles do not support the Photo function even if they have a camera. This is because those mobiles do not give Java programs like IMHere access to the phone. But even if you do not have camera support you can still make nice sketches (see step 2)

Step 2: Sketch
Personalize your photo with your own text and drawings. Use the following keys:
1: Change color
2: Change line width
3: Choose between the following: line, rectangle, ellipse, filled rectangle, filled ellipse, text
arrow keys: Move the cursor
ok (sometimes the 5 key): Create the selected drawing object. After that use the arrow keys to change the size. Then press ok again and use the arrow keys to change the position of the object.
4: Undo
5: Sometimes used as ok button.
6: Redo
9: Change font (in case of drawing a text object).

Step 3: Send/email/store
Snap&Sketch is available in the following screens:
Login screen. You can choose to stay offline and start Snap&Sketch. In this case you can store your drawing for later use.
Chat-window. During a chat-session you can start Snap&Sketch and send the result to your buddies.
Also try