Genetics 4 Medics android apk free download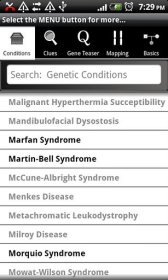 Name -
Genetics 4 Medics
Category -
medical
Resolution - multi
Type -
Android 2.1 Eclair
Size - 3793 KB
Rating -

2

/

5

from

23

ratings

Rate this app:
5218 downloads
Description:
Ver 2.1, for Android OS 2.1 and up
*** iPhone version of Genetics 4 Medics featured in The Lancet (Sep, 2011)
Medical Genetics is one of the fastest developing branches in Medicine. Genetic conditions are encountered in almost all Medical specialities.
Genetics 4 Medics application is intended to facilitate the learning process as well as to refresh the knowledge which has already been acquired. We hope this will be useful to students and practicing clinicians alike.
*** NOTE: In the free version, the user will have access to 50 Genetic conditions, 50 Clues, 3 Chromosomes in the mapping section and the questions in the Gene Teaser section. To unlock all features, please upgrade to the full version by an in-app purchase.
*** The free version is ad supported
We have designed this app to be used as a mini eBook with five sections.
1. Genetic Conditions
-------------------------
In this section, we have described more than 200 genetic conditions. The objective was to help find information on conditions which are not so uncommon.
Each condition has the following headings:
? Background & Genetics: This includes a brief description of the genetic cause (gene mutation, chromosomal location etc) and inheritance pattern of the condition.
? Salient Features: This describes the salient clinical features of a condition. We have included only the clinical features commonly associated with the condition. We have NOT included rare associations.
? Links to external online resources: We have provided links to Wikipedia, Google Images and YouTube for majority of conditions. NOTE: The material in these external websites are not under our control, and we are not responsible its content. Access to these websites will need an active internet connection either via WiFi or internet data plan.
Condition Mapping
----------------------
In this section, we have mapped a condition to its chromosomal locus. We have mainly included conditions caused by single gene defect. Clicking on the titles will open up the description page.
Note: The chromosome diagrams are only pictorial representations to facilitate visual learning and memory. They do not represent exact G banding pattern and are not drawn to scale.
3. Clues
-----------
We have included about 150 clinical features which are clues to some of the conditions described in this application. Some clinical features may be shared by different conditions. Clicking on a feature provides links to these conditions. However, as we have only used data from the 'Salient features' section, this is not an exhaustive list. Please refer to standard genetic textbooks for a complete list of conditions associated with a particular clinical symptom or sign.
4. Gene Teasers
-----------------
Food for your genes! Try out these questions in your spare time. We plan to update this section regularly with a new question. A notification will be sent whenever this section is updated with a new question. The title of the case scenario will automatically be updated in this section. The user will be able to download the case by selecting the download icon next to the title. NOTE: An active internet connection will be needed for the regular updates as well as to download the cases.
5. Basics
-------------
In this section, we have described some basic genetic concepts and genetic investigations using simple terminology.
Genetics 4 Medics application should only be used for educational purposes and NOT as a diagnostic tool. For help with diagnosing a genetic condition, please take advice from an experienced Clinical Geneticist.
Full Terms & Conditions available on downloading the app. Users must agree to these Terms & Conditions prior to use.
---------------
Please contact us for support or feedback -
[email protected]
Also try