FindMe java app free download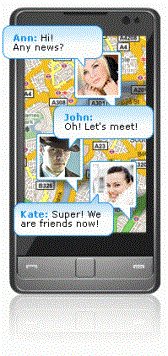 Name -
FindMe
Category -
entertainment
Resolution - multi
Type - jar
Size - 314 KB
Rating -

2

/

5

from

58

ratings

Rate this app:
945 downloads
Description:
Ver v1.4.3, for J2ME




FindMe is a mobile social network program developed for your personal mobile phone.
Friends will be accessible to you via your mobile phone, thus ensuring almost non-stop contact.
The FindMe program operates directly from your mobile phone so you will always be able to find anybody anytime on the map.

FindMe provides both location data and information on places of interest throughout the world in a convenient and fast way!

Menu Functions

MY MAP
Use this function to:
- View your location on a map
- Change the type of map
- Change the scale
- See the address
- Set location manually if a GPS-receiver is not connected.
- Move a map.

ADD FRIENDS
- Use this function to add a user in any country to your friends list.

MY FRIENDS
- With this function you can store a full list of your contacts added via the menu option "Add friend".
The FindMe program allows you to save up to 100 contacts on your mobile phone. To access additional information about the contact not included in the "My friends" list please use the menu function "Find contact".

NEW MESSAGE
- Use this function to send a text message to one friend or a group of friends from your contact list. You may also attach:

- Pictures and addresses (Geo-photo)
- Images from your mobile phone's memory card
- Last saved location (Geo-mark)
- Records saved in your "Journal" section

PHOTO TAG
- This function allows you to take photographs of any object without logging out of the program. Both the photo and the address are automatically saved in the "Journal" section and will be viewable to you on your mobile phone and the web site. Other FindMe users can also view your pictures by setting the relevant access status.

PLACE TAG
- Use this function to store the addresses of your favourite locations in the "Journal" section. Stored data will be viewable both on the website and your mobile phone.
For example if you have visited an interesting cafe and wish to tell your friends about it, simply create a "Geo-mark" and mail it to your friends. Recipients will receive a message with a map pointing to the exact location.

FIND ME
- By using this function you can send the address of your location to one or several friends. After sending the information receivers will see a message informing them of the address of your location. There is an option to save the list of receivers which will allow you to send future messages by pushing only one button.

MY STATUS
- Use this function to make adjustments to the following settings:
Add other FindMe users to your group and select their access rights to your profile.

1. My visibility – the visibility regime you have determined for other users: Accessible for everyone – information on your location is accessible to all FindMe users who know your mobile phone number;
Only friends – your location can be seen only by those users included in your "Friends list" who have been granted full viewing access. A user who is not included in this list can send you an SMS with an invitation to join his/her group of friends. You can choose to accept or decline such invitations.
Invisible – information about your location is not accessible to anyone and no-one can see where you are.

2. Switch on/turn off GPS – When starting the FindMe program the GPS-receiver is always switched on by default allowing your location and the location of others to be displayed. When the GPS-receiver is turned off you are invisible to users and cannot be seen in the reporting system. In this instance other users can only view your last recorded location.

3. Status updates – This refers to the time setting for the update of your information to other users. At the time of updating, messages and requests from other users, and the current addresses of friends you are tracking will appear instantly.

MY REPORT - Use this function to store the location details along a specified route. Data will be saved in sequence and can be viewed through your personal account or on the FindMewebsite.
To activate this function go to the "My Way" menu before starting your journey and press stop when you finish it. Later you will be able to view the route taken.
You can also view the route covered by your friends, who have granted you access, via the website. Please note, to use the program in the reporting mode the GPS receiver must be switched on.

SOS
- This function allows you to send your location to friends listed in your "Contacts" in an urgent situation. We recommend you develop a constant list of friends who may be contacted this way in case of an emergency. Listed contacts will receive a FindMe message and a standard SMS alerting them that you need help. The message recipient will also receive the address where the incident has occurred.

Minimum requirements for mobile phones supporting the FindMe program are as follows:

*16 bit colour display
*Mobile telephones supporting Java
*Internet connections – GPRS, 3 G or Wi-Fi.
Also try