Battery Notifier Big Text
Battery Notifier Big Text android apk free download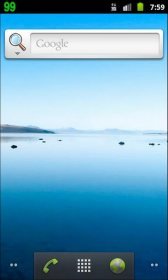 Name -
Battery Notifier Big Text
Category -
tools
utilities
Resolution - multi
Type -
Android 1.6 Donut
Size - 144 KB
Rating -

1

/

5

from

11

ratings

Rate this app:
686 downloads
Description:
Ver 1.2.6.6, for android 1.6 and up


Battery Notifier (Big Text) retains all of the battery charge level alarm notification features of Dmytro Shkil's Battery Notifier but replaces the status bar battery icons and smaller text battery indicator levels, with big, colored, easy-to-read text showing the percentage of charge the battery has left.
Battery Notifier (Big Text):
Text color levels are fixed and are based on the battery charge level percentage left and are as follows: Green: 100-50, Blue: 49-30, Orange: 29-15, Red: 14-0
The specific colors were selected to be easy-to-read whether one has a black, white or gray status bar.
Battery Notifier (Big Text) is one of the lightest apps available with a battery level indicator in the status bar and puts the least possible strain on your battery.
****** PRO VERSION ******
If you like this app, please consider supporting the developers by downloading Battery Notifier Pro BT. (https://market.android.com/details?id=com.larryvgs.batterypro)
It's less than a cup of coffee at Starbucks most places and you don't have to tip! And when was the last time someone gave you free lifetime coffee updates? :-)
If are concerned about identity theft and your privacy rights, please take a few minutes to read the latest post at our blog, "Your right to privacy. You have a choice." at http://batterynotifierpro.blogspot.com/
Battery Notifier Pro BT is a pro version of Battery Notifier (Big Text) and has the following extra features.
* Three fonts - Arial Narrow, LcdD and MingLiU
* Custom color options display the status bar colors you want at the levels you want
* Many additional icon sets available to download for even more status bar options
* Quiet hours (Mute alarms certain hours of the day or night)
* Mute alerts (Postpone alarms until you want to hear them)
* Repeat intervals for both low AND full battery alarms
* Ignore full battery notification if USB is plugged in
* Quick access to Battery Use, Battery Info and Battery History via the Menu button
* Battery temperature/health displays on the Dashboard
* Smiley face with sunglasses tells you battery is fully charged
* Option to show second (no sunglasses) smiley face when charging
More information available at https://market.android.com/details?id=com.larryvgs.batterypro
NOTE: If your device is only reporting in 10% intervals or drops quickly from 100% to 90% after coming off the charger, please see our FAQ page and the post on Battery Drain and Battery Inaccuracies. http://batterynotifierpro.blogspot.com/
NOTE: A2SD (SD card support) functionality is not possible due to necessary background service. However, if it's your preference, there is no limitation to use A2SD+ (ext partition on rooted phones).
Based on Dmytro Shkil's open source app Battery Notifier. (Found at the Android Market at http://market.android.com/details?id=com.shkil.battery)
BATTERY NOTIFIER (original): A simple and lightweight application intended to show battery status in the status bar and repeatedly alert when your battery charge level is getting low. Can notify when battery is fully charged as well. Customizable settings allow you to specify low battery level, sound & vibration mode, alert ringtone, low battery alert repeat interval and so on.
Also try