Ask a Lawyer: Legal Help android apk free download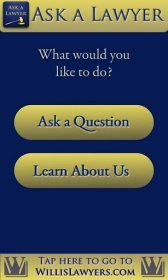 Name -
Ask a Lawyer: Legal Help
Category -
business
Resolution - multi
Type -
Android 2.1 Eclair
Size - 24 KB
Rating -

2

/

5

from

16

ratings

Rate this app:
682 downloads
Description:
Ver 1.0.3, for Android OS 2.1 and up


Ask a Legal Question Today!

Ask a Lawyer Any Legal question for FREE!!
Do you have a Legal Question? Or are you looking for a legal help?
Ask a Lawyer is FREE!
Need help figuring out what to do for legal help?
Ask a Lawyer Any Legal question today!
Don't pay expensive legal fees to get a answer to a simple question, ask us today.
Do you need help? Confused about the legal process, what to do next, what are your rights, who to use, what you can or cannot say?
Ask A Lawyer wants to put your mind at ease and relieve the stress of not knowing what to do. Giving you the comfort to know you are making the right decision.
Courts, laws, and the legal areas is a complicated field and can be a confusing process. We're here to help, ask any question from how to get start to what you should be doing. You can even get a lawyer right away to get started on your case.
With our professional attorneys you can ask any legal questions and get an instant response straight to your email.
The primary purpose of this app is to allow people to get legal help, possible representation, and find out answers to any general questions they may have from our lawyers for FREE!
When you're ready feel free to take advantage of our Instant Representation Feature in order to get a lawyer started on your case today.
If you have any questions about this app or our services feel free to view our website at
www.willislawyers.com or call us at (888) 483-4390
Keywords:
Legal Help, Lawyers, Ask A Lawyer, Attorney, Lawyer Help, Drinking and Driving, Legal Advice, Lawyer, Attorney help, Law, Laws, Know the law, Legal Representation, legal help, lawyer advice, lawyer mobile app, need a attorney, bankruptcy, personal injury, case evaluation, wills, trusts, legal need help, elder law, social security law, disability law, disability lawyers, estate planning lawyers, estate planning lawyer, business law, business lawyers, tax attorney, tax lawyers, ask a legal question, ask a attorney, business lawyers, lawyer help, lawyer advice, legal help, legal help questions, locate a lawyer, my lawyer help, help with lawyers, help with legal case, the law, accident legal help, drinking and driving legal help, DUI help, DUI Legal help, DUI legal questions, DUI lawyers, DUI Questions, DUI Legal Questions, DUI legal question, lawyers help, attorneys help, local attorney, local lawyers, local legal questions, lawyers in need, need a lawyer, need a lawyers, legal rights, my lawyers, my attorneys, my attorney, criminal defense law, criminal defense lawyers, immediately contact a local attorney, immediately contact a lawyer, accident attorney, accident lawyer, accident lawyers, motor vehicle accidents, attorney, attorneys, law firm, legal app, legal applications, lawyer, lawyers, lawyer app, lawyer apps, attorney app, attorney apps, my attorney app, my attorney apps, my lawyer app, my lawyer apps, my lawyers, my attorneys, my attorney, my lawyer, injury attorney, accident checklist, insurance checklist, insurance claim, accident, insurance company claim checklists, cruise injury, cruise ship claim, cruise free lawyer advice, free advice, free attorney advice, Accident Attorney, Local Lawyer, cruise ship lawyer, cruise attorney, Injury Lawyer, personal injury lawyers, car accident attorneys, personal injury attorney, personal injury lawsuit, accident claim, OWI, OWVI, OWI Attorney.
Disclaimer:
By viewing this description, you agree and understand that this is information upon request. You also agree that any information contained within the application is information upon request. You also understand that we are only licensed to practice in certain states and federal courts, and this application is only intended for use in those states. The website within the app is only for our practice. If you download our application in a jurisdiction within which we are not licensed, you expressly agree that we are in no way offering you legal advice by your use of the app and are not practicing law or availing our services for cases in those states.
Also try