A.I.type Keyboard Free android apk free download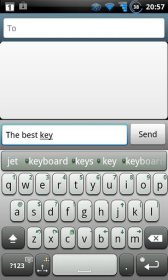 Name -
A.I.type Keyboard Free
Category -
productivity
Resolution - multi
Type -
Android 2.0.1 Eclair
Size - 5232 KB
Rating -

3

/

5

from

16

ratings

Rate this app:
704 downloads
Description:
Ver 1.7.5, for android 2.1 and up
A.I.type's revolutionary keyboard will help you type faster and better!
An intelligent keyboard with revolutionary context-sensitive text prediction, auto-correction, auto-learning, undo/redo/navigation capabilities and cool (and customizable!) skins (WP7, Windows 8 and iPhone for instance).
***** Trial version ***** - text prediction will be available for 15 days only (other great features are unlimited!).
Privacy notice: while installing A.I.type Keyboard, you will receive a warning message about collecting sensitive data. This is the standard general-purpose Android message issued for any downloaded keyboard and it does not pertain to A.I.type. Our keyboard DOES NOT COLLECT YOUR SENSITIVE DATA.
Key features:
* Suggests your next word! (limited to 15 days on free version)
* Completes your current word! (limited to 15 days on free version)
* Corrects your spelling as you type! (limited to 15 days on free version)
* Auto corrects your typos when you hit the spacebar (context-sensitive) (limited to 15 days on free version)
* Automagically learns your common words and style. We call it - MyType (limited to 15 days on free version)
* Supports unique themes (Windows Phone 7 theme, iPhone 4 theme, ICS theme, large buttons theme and more).
* Allows skin customization - colors, background images etc.
* Includes a layout for undo/redo/copy/paste/navigation and more.
* Over 35 language layouts!
* English text prediction is built-in
* Predictionaries (language packs) for text prediction are currently available for Spanish, German, French, Italian, Arabic, Russian, Dutch and Hebrew!
* Coming soon: Predictionaries for Turkish, Portuguese, Korean, Greek, Finnish, Swedish and Tagalog.
Check out our new ICS Theme Pack on the Market! New themes are coming soon!
Psychic word completions and predictions are generated by A.I.type's servers on the Cloud. When the device is offline or Internet connection is too slow, or if you disabled Cloud-based prediction, word suggestions will be generated by the device only.
The keyboard also learns your unique words and style of writing (MyType). Just type your texts normally and it will keep learning. The learning model is stored on the device itself and is NOT shared with our servers.
Because A.I.type keeps improving, it's recommended that you enable auto-update on Android Market so you always have the latest version.
Own a Tablet? Download A.I.type FloatNSplit and get a whole new experience in typing!
Please contact
[email protected]
with any issue or suggestion.
Writing has never been easier!
????????????,?????,teclat,klávesnice,tastatur,πληκτρολ?γιο,teclado,???? ????,n?pp?imist?,clavier,?????,billenty?zet,tastiera,???????????,???,tastatūra,klaviatūra,toetsenbord,klawiatura,клавиатура,тастатура,tangentbord,?????????,klavye,клав?атура
Also try