1000- Crude Jokes android apk free download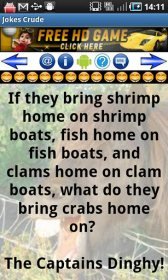 Name -
1000- Crude Jokes
Category -
comics
Resolution - multi
Type -
Android 2.0 Eclair
Size - 1395 KB
Rating -

2

/

5

from

44

ratings

Rate this app:
3350 downloads
Description:
Ver 3.0.3, for Android OS 2.0 and up


Over 1000 crude jokes. They contain swearing are are likely to offend everyone.
Over 1000 crude jokes. They are just that CRUDE, they contain swearing are are likely to offend.
*Think you're funnier; then submit your own jokes for inclusion in the app and get the credit too.
*Warning, these jokes contain swearing and topics of an adult nature and as such are intended only for grown ups. Please do not download if you easily offend you will only get upset*
*New jokes added weekly
*Submit your own joke for inclusion in the app.
*Move to SD card (android 2.2+ only.)
*This app will remember were you are up to even if you turn off your phone or update the app
*Share with SMS/Email
*Copy to Clipboard(via menu button), for posting to social networking sites.
*Random joke button
*Hold the left arrow to go back to the start
*Hold the right arrow to go to the end
*Link to developer's other apps in the market
*Change the size of the text
*Change the color of the text
*Change the style of the text
*Change the background
*Rate the app
Examples of what's inside (jokes are not censored in the app):
"What do you call a female police officer that shaves her pubic hair?
C**t Stubble."
"The Sunday School teacher was speaking to her class one Sunday morning and she asked the question, "When you die and go to Heaven ... which
part of your body goes first?"
Suzie raised her hand and said, "I think it's your hands."
"Why do you think it's your hands, Suzie?"
Suzie replied, "Because when you pray, you hold your hands together in front of you and God just takes your hands first!"
"What a wonderful answer!," the teacher said.
Now, Tommy raised his hand and said, "Teacher, I think it's your legs."
The teacher looked at him with the strangestlook on her face.
"Now, Tommy, why do you think it would be your legs?"
Tommy said, "Well, I walked into Mommy and Daddy's bedroom the other night,
Mommy had her legs straight up in the air and she was moaning, 'O God, I'm
coming!' And if Dad hadn't had her pinned down, we'd a lost her for sure!!!""
"One day a guy with premature ejaculation problems went to a doctor.
The doctor said, "Whenever you feel the urge to ejaculate, startle
yourself."
So he went out and bought a starter pistol.
When he got home, his wife was naked in bed, ready for him. So they
got in the 69 position and started at it. Soon he felt the urge to
cum, so he fired the pistol.
The next day he went to the doctor. The doctor asked him how it went.
He said, "Not too good. My wife bit off three inches of my dick, s**t
in my face, and my neighbor came out of the closet naked with his
hands up.""
N.B. Permissions are required by the Ad networks, which keep the app free.
Also try