foxy tag java app free download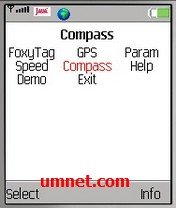 Name -
foxy tag
Category -
travel
navigation
Resolution - multi
Type - jar
Size - 220 KB
Rating -

3

/

5

from

38

ratings

Rate this app:
135 downloads
Description:
Ver v0.8.8, for J2ME
FoxyTag is a free, legal and collaborative system to signal speed cameras on mobile phones.[/B] Fixed and mobile cameras will launch an alarm 15 seconds before the critical point. If you participate by signaling new cameras or by confirming existing ones, you create trust links with the other users and benefit from more reliable information. This collaborative model makes that FoxyTag is today the most complete and up to date speed camera database in the world.
FoxyTag motivates neither speeding nor any other risky behavior, but allows the driver to concentrate on the road instead of having is eyes fixed on the speedometer, by fear of being flashed. We observe that drivers tend to brake suddenly when they see a speed camera (even if they are not speeding), which can provoke traffic jams or even accidents (chain collisions or slidings, like in this video). FoxyTag signals in advance the presence of speed cameras, so that the driver has enough time to check his speed and adapt it if necessary.
Users Guide:
IMPORTANT: Read the user's guide before you start tagging new speed cameras. You will then avoid to misuse the application and being excluded by the system. For instance, you must press the button when you are as close as possible to the camera (you press when you cross the camera, not when you see it), otherwise you risk to duplicate existing tags and therefore decrease the trust links with the other users. The user's guide is available here.
Troubleshooting:
- Which java phone models are supported ?
Most Nokia et Sony-Ericson phones are supported. If you know a phone model that works well and that is not in our list, please contact us at
[email protected]
Currently, our users reported that FoxyTag RI works well on the following phones: BenQ-Siemens_SXG75, Motorola_KRZR_K1, Motorola_V6_MAXX_Razr, Nokia3250, Nokia5200, Nokia5300, Nokia5500d, Nokia6110Navigator, Nokia6131, Nokia6233, Nokia6234, Nokia6280, Nokia6288, Nokia6300, Nokia6500c, Nokia6630, Nokia6680, Nokia6681, NokiaE50-1, NokiaE50-2, NokiaE51-1, NokiaE60-1, NokiaE61-1, NokiaE65-1, NokiaE70-1, NokiaE90-1, NokiaN70-1, NokiaN73-1, NokiaN78, NokiaN80-1, NokiaN82, NokiaN91-1, NokiaN93-1, NokiaN95, NokiaN95_8GB, SonyEricssonD750i, SonyEricssonK600i, SonyEricssonK608i, SonyEricssonK610i, SonyEricssonK750i, SonyEricssonK810i, SonyEricssonM600i, SonyEricssonP1i, SonyEricssonP990i, SonyEricssonV600i, SonyEricssonV630i, SonyEricssonW300i, SonyEricssonW580i, SonyEricssonW710i, SonyEricssonW800i, SonyEricssonW810i, SonyEricssonW850i, SonyEricssonW880i, SonyEricssonW890i, SonyEricssonW900i, SonyEricssonXperia, SonyEricssonZ520i.
- My application doesn't connect to the network, what can I do ?
Get your internet parameters by SMS via the website of your mobile phone operator or your mobile phone manufacturer. If it still does not work, follow the instructions given at amAze.
Also try