My Fantasy Football Guru android apk free download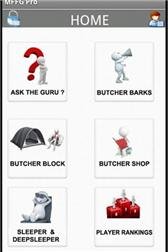 Name -
My Fantasy Football Guru
Category -
sports
Resolution - multi
Type -
Android 2.2 Froyo
Size - 821 KB
Rating -

1

/

5

from

1

ratings

Rate this app:
263 downloads
Description:
Android 1.5 and up
If you have this #FF app you are one step closer to normal.
YOU CAN'T LOGIN AND THE APP WILL FORCECLOSE UNTIL WE RELEASE NEW VERSION. JUST HANG OUT A FEW MORE DAYS AND EVERYTHING WILL BE FINE,,,,,,,
BETA BETA BETA BETA BETA BETA BETA BETA BETA BETA BETA
@myFFguru on twitter to contact at any time
They are doing final functionality testing for the new and improved DROID app, the new iPhone app, and the new website www.myfantasyfootballguru.com
NEW APP IS READY TO DOWNLOAD NOW!!!!! THERE ARE STILL SMALL ERRORS THAT ARE BEING WORKED OUT SO PLEASE SEND ERROR REPORTS AND/OR EMAIL TO ME.
You don't need to be a member to see app or website and alerts are free no matter what.
PayPal is our service vendor for those with accounts or pay with credit card or checking account using PalPal
APP IS FREE AND ALWAYS WILL BE. HOWEVER, IF YOU WANT TO WRITE, PARTICIPATE, OR ASK QUESTIONS ITS 2.99 FOR A YEAR- CONSIDER IT A DONATION TO YOUR GURU. MONEY WILL BE USED FOR NEXT VERSION IN 2013. LIVE ALERTS SENT THROUGH PHONE AND EMAIL- yes email is free and holy doodoo is it fast.
MOST IMPORTANT PART IS THE NEW WEBSITE WHICH MASKS THE Droid and iPhone APPS BUT HAS MORE FEATURES- WE WILL BE USING THE WEBSITE MUCH MORE THAN PHONE APPS while at home or on a PC.
WWW.MYFANTASYFOOTBALLGURU.COM
Welcome to Guru Conde' Butcher's My Fantasy Football Guru or MFFG: a free fantasy football resource brought to you by a very handsome Guru.
Follow at TWITTER @myFFguru come say hi
KIK- Conde'Butcher
Kakao- Conde' Butcher
Crime- Conde' Butcher
Another year is over and we continue to move right along waiting for next year to come. Some will play fantasy baseball or Nascar, while others pass the boredom with basketball.
I personally will occupy 3 weeks of the vacation with a march madness pool but that is all. I am still one who refuses to play anything but FF and will wait patiently until July when life is relevant once again.
The other sports are just basic mental exercises, like soduko, to keep the brain strong and the stat tracker warm- however, should not be considered on the same level as FF. Personally, I refuse to even let someone mention how their pitcher had 8 great innings and then gave up 9 runs...whaaaa I played for 6 months and my Pitcher got a blister and was pulled whhhaaaa.....I'll choke em before they are done (jk).
Life is better when NFL Football is on and FF can be played- an increased personal organization, highly structured, and a sense of something important is always looming. A healthy routine is made and served without regret. A real devotion to something other than the family, job, religion or friends is such a breathe of fresh air that it must be called therapeutic.
As less important routine takes over, MFFG wanted to say thanks for the support in our Second season and we will see everyone on our newly developed and improved app this year- as well as moving to iPhone and Website for non-smart phone users and for us to participate on at home.
P.S. To the wives/girlfriends/bosses who complain, whine, annoy, and restrict I want to remind you that unlike FF you can be replaced (JK)
Guru Conde' Butcher
13 Time World Champion
Email
[email protected]
Guru Conde' Butcher: Leader of The Loyal Greeks (Guru+Freeks) Disciples, Gurunites, and Gurupies of My Fantasy Football Guru- Protected by the toughest 1% of the Loyal Greeks known as The Chosen Ones...and I am ONE!!!!
Also try