LonelyCatGames ProfiMail symbian app free download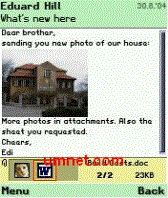 Name -
LonelyCatGames ProfiMail
Category -
system
tools
Resolution - multi
Type -
Symbian s60v2
Size - 512 KB
Rating -

2

/

5

from

18

ratings

Rate this app:
223 downloads
Description:
Ver v2.81, for symbian os S60




ProfiMail is a powerful e-mail client for mobile devices. It allows you to read your mail on go, and send text with attachments directly from your device. Send photos, recorded sound or simply text messages to friends, from anywhere. Through your mobile Internet connection.

Features:
Automatic synchronization of messages with mail server
IMAP folders
Attachments - view, save, send
HTML messages with images and hyperlinks
Built-in File Explorer
Address book
Signatures
Support for POP3 / IMAP / SMTP mail servers
Writing mails using T9 dictionary (if available on phone)
Multiple email accounts
Rules and filters allowing selective message download
Opens and browses ZIP archives
Support for various character encoding - Western, Cyrillic, Central European, and more
Build-in image viewer - JPG, PNG and other popular formats
Text viewer for standard text, HTML and Word documents
Optimized for GPRS - get headers first, then download message bodies which you really want to see
Scheduled message download
Sound notifications
2.76 Fixed connection problems on Symbian (multiple connection dialogs), fixed date calculation
2.77 Opening links in system web browser, fixed Windows Mobile silent profile detection, fixed occasional attachment download corruption
2.78 Fixed occasional crashes during connection, fixed entering registration key
2.79 Fixed 'connection error 301'
2.80 Dutch translation, uploaded IMAP sent messages marked as seen, fixed PocketPC registration, improved speed of message sending, fixed E90 soft buttons alignment, 3 more colors
2.81 Fixed crash problem introduced in version 2.80

Supported devices:
S60: Nokia 3230, 3620, 3650, 3660, 6260, 6290, 6600, 6620, 6630, 6670, 6680, 6681, 6682, 7610, N-gage, N70, N90

ProFimail settings yahoo/gmail..no untrusted certificate

Configuring Profimail to use Gmail

Set the "Incoming mail server" to pop.googlemail.com
set "Outgoing mail server" to smtp.googlemail.com
(Use googlemail.com instead of gmail.com
to keep from getting the untrusted certificate message.)
In Advanced settings, make sure "Secure POP3 login" is unchecked &
"SMTP authentication" is checked.
Use your full email address as "SMTP username".
Use your Gmail password as the "SMTP password.
"Set your "POP3 port" to 995 and "SMTP port" to 465.
Check "Use SSL for POP3" and "Use SSL for SMTP."
Press done and your account will be all set.

Configuring Profimail to use Yahoo! Mail

GoTo Account >>New

Account Name : user--------------
Email Address : user--------------
Display Name : user
Mail Server Type : POP3
Incoming mail server : pop.mail.yahoo.co.in
Outgoing mail server :smtp.mail.yahoo.co.in
Username : user
Password : as applicable

Then GoTo Advanced Settings

Secure POP3 login : uncheck
SMTP authentication: check
SMTP Username & Password :as applicable
POP3 port : blank
SMTP port : 587
Use SSL for POP3 & SMTP : uncheck

PS : Not tested yet !